This posting will serve as Part 6 of "America's Vote Boat" series of this journal/ blog ... to highlight just the first day or 2 of early voting here in Texas, and they say that now is the time to get out to vote, because next week, the lines will even be heavier ... and as my wife Rosalie said this morning ... "don't vote, don't bitch" (meaning, if you do not vote ... you have no reason to bitch about the politics) ... which inspired part of the posting title, so get your asses out to vote. It's not just in Texas with this big turnout, I been reading this all over the country, I'm just highlighting Texas, cause I live here, and we have a decent amount of voters registered in Texas at 15,015,700. I just got back from voting here in Northwest Dallas, and it is the heaviest amount of voters I ever seen here in the first couple dayz of early voting, it usually isnt heavy until the actual voting day, we had a line about a block long, and there are many places to vote around Dallas- Fort Worth. The new voter ID law was no issue for me, I simply flashed my drivers license, didnt even take it out of my wallet, nor did they look at it hard ... they say you can also bring a utility bill, water, electric, cable tele, or whatever, if you dont have any ID, or if you have none of that, you can simply sign your name on a sheet saying you are legit, so there shouldnt be much issue with that.
As far as how I voted ... that was a toss up ... in fact this morning while at Starbucks in Addison with my daughter, I told her I wanted to vote for Jill Stein and the Green Party today, while waiting in line at the voting polls in Northwest Dallas later, I changed my mind after giving it some thought, I voted for Hillary Clinton and straight Democrat. But, I didnt vote this way out of fear, in other words, Trump doesnt scare me a bit, unlike many. While in line, I was thinking about how hard Senators like Bernie Sanders and Elizabeth Warren fought ... as well as those progressives that are sincerely trying to make change in the Democratic Party, I been reading about so much concerning pharma pricing control, to social security strengthening, to making adjustments to ObamaCare/ ACA, to affordable higher education, to ending Citizens United and so on, that Democrats been talking heavy on ... so I said ... "what the Hell, at least give them the benefit of the doubt". No, I have been skeptical about Hillary Clinton, and she certainly wasnt my first choice of a candidate, voting in the primaries for Sanders, and I have reason as I point out in related series in this journal. However ... I thought that I should at least give Hillary Clinton also that benefit of doubt, she has the experience, she said she wants to make good, and I would hope that she wants to heal some past mistakes ... so I believe just in fairness and giving folks a chance, as hard as she worked, even working the campaign circuit while sick with a case of pneumonia weeks back, trying her hardest to talk to crowds while having a bad cough ... to give her a chance ... she worked hard. I was also interested in getting back a Democrat majority in the House of Representatives and Senate ... if they regain power, and with help of progressive Dem's try to do as much possible, of what they say they want to, it will be a relief from anything that the Republicans want to impose ... if the Democrats and Clinton screw around too much ... I will probably not vote for them again in 2018/ 2020, I'll go third party ... I just feel to give them a chance. Some newsread/ video below.
Word Out ....
***** THE TEXAS TRIBUNE:
Record 15 million Texans registered to vote
... (newsread)
***** WFAA8/ DALLAS-FORT WORTH:
Early voting opening shatters turnout records in N.Texas
... (newsread/ video)
***** THE TEXAS TRIBUNE:
Early voting is breaking records in Texas' 10 biggest counties
... (newsread)
***** KHOU11/ HOUSTON:
Day one of early voting sets records and draws complaints
... (newread/ video)
Brook Hollow Library North San Antonio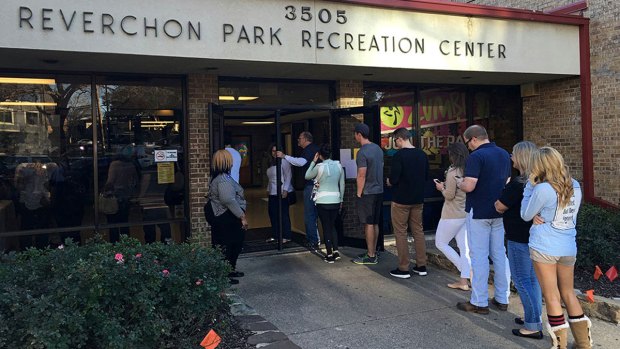 North Central Dallas Oak Lawn District
Fiesta Mart Kirby Drive South Central Houston
****************************************************************************
***** PD/ RCJ:
"AMERICA'S VOTE BOAT"
PART'S 5 THRU 1
****************************************************************************
*****************************************************************************
*****
RANCH CHIMP JOURNAL "WELCOME" POST
*****
RCJ MUSIC/ ART'S HONOUR ROLL SOCIETY
(my hand- selected music/ arts picks)
****************************************************************************