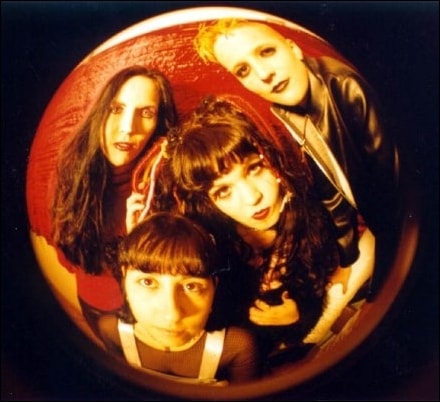 Another group that is way past due to honor in this journal is "Jack Off Jill"! As far as their history,
I will let this say it
. But this 1990's group to me is probably one of the most under- rated group's in alternative or punk music, I frankly dont know how to categorize them, because their sound can be so versatile. The 4 ladies who originally was the foundation of this explosive sound, have long went their seperate way's (1992- 2000), but was a chemistry for a composition that is in a class of it's own.
The toughest part of posting this, was trying to decide which two video's/ song's I should post .... this is one group where I love all they came out with and feel different about every individual piece of their work! But mucho Thanx for what they do have to enjoy, and their work and contribution's! The first piece is called "My Cat" .... and next .... "American Made" ...... Enjoy!
Jack Off Jill- My Cat ... Thanx to
THE SOMBER CHILD
Jack Off Jill- American Made ... Thanx to
purgatory47
***********************************************************************
***********************************************************************