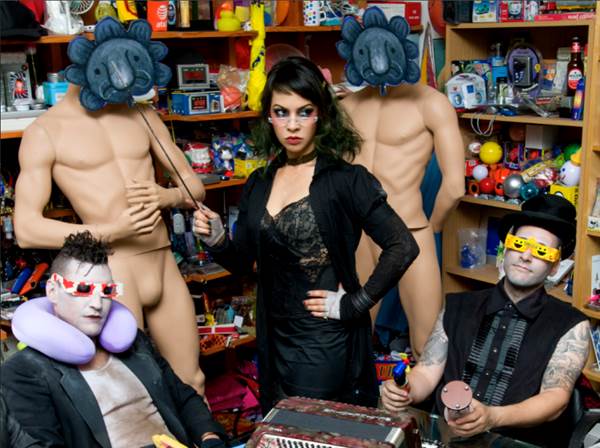 *****
STOLEN BABIES/ OFFICIAL WEBSITE
This is a crew that I just had to get into this journal's music/ arts honour roll society because of just how uniquely and multi- talented this crew is, called "
Stolen Babies
" out of Los Angeles (LA just has such a line- up of great inde music as well), and I also had the opportunity to catch their show "live" last year here in Dallas in an intimate type smaller venue/ setting which was really excellent as far as live sound too! But yeah, a pretty unique sort of line up as far as starting with their high school theatric's more or less with a dozen or so, then incorporating those aesthetic's as some type of theme for the music they would evolve into over time I reckon, been together since 2004, took a break away from each other for awhile and restructured. Really a treat as far as musical creativity and being instrumentally versatile as well.
One of the thing's that really grabbed me as well was not just the style, but the vocal abilities and range of Dominique Persi, who likes to throw accordian music into her performance too that sway's along nicely, the rhythm pattern's out of the bass/ guitar are all over the place from Rani Sharone as well as the drumming of his brother Gil. I really cant put this crew into a genre though, there are so many element's that take's them into different genre's, and I catch everything from metal to dark cabaret, but looking at the write- up's, there's at least a dozen their categorized into somehow, and you can also see from their alternative influence's how they evolved into what they are. But with this new surge they had in 2012, I really look forward to what they will be coming out with in the next few year's too, this is just an interesting crew and sure as Hell musically entertaining! ... Wishing them the best of the best too! ... Enjoy!
***************************************************************************
*****
"RCJ MUSIC/ ART'S HONOUR ROLL SOCIETY"
A THRU M
*****
"RCJ MUSIC/ ART'S HONOUR ROLL SOCIETY"
N THRU Z
****************************************************************************
Stolen Babies- Spill! ... Thanx to
LULLABYE37
Stolen Babies- "Tablescrap" live ... Thanx to
SUPERSKUM
Stolen Babies- "Push Button" The End Records ... Thanx to
BLANKTV
Stolen Babies- So Close ... Thanx to
SOSSOMA1
*****************************************************************************
*****
RANCH CHIMP JOURNAL "WELCOME" POST
*****
RANCH CHIMP JOURNAL/ YOUTUBE
(posting's preview)
*****
RCJ MUSIC/ ART'S HONOUR ROLL SOCIETY
(my hand- selected music/ arts picks)
*****
THE RESISTANCE/ PERIL'S OF THE POWER POSSE
(inspiration for hope & change)
*****************************************************************************