****
Houston Texans cheerleaders
This posting will be Part 7 of the "American Jobs" series of this journal/ blog. This posting will look at the class action lawsuit that came up against the NFL, even alleging conspiracy against the NFL as a whole, on everything from wage theft, to suppression of compensation and benefits, all in my view, way past due, so credit and cheers here for these cheerleaders for stepping up together, there has been individual lawsuits over the years, but I would hope this class action move will bring change, for those new younger cheerleaders ... they're suing for every other "Sue" too, is how I see it. But this can get complicated too, being that these are former cheerleaders pushing this action, in a complex hiring system ... like damn near every other business today, there are alot of parties involved, to lay responsibility on everyone else but themselves, you have the NFL, the individual teams, states, and cities, managements, the entertainment contractors, etc. When we watch these football games, and view the cheerleader squads, there is much that we dont see ... these are not just some women dancing, and much more complex than high school or college cheerleading, these professionals are also entertainers, athletes, as well as public relations specialists of sort themselves, not only on the field, but off. And yes, these businesses are guilty of all alleged in my view, there have been individual settlements reached in past for a reason, just like many of these large corporations, they dont mind shelling out a few million in a bind, when there is over a billion in profits on the line. Then to top it off, they try to nickel and dime them of what little pay they get, through fines, fees, and miscellaneous expenses that should be NFL/ team covered. A positive I read, was that California recently passed through some legislation, making these pro- cheerleaders ... "employees", and having to get at least minimum wage.
I worked with a gal for a year and a half, Kerri, who was also a Dallas Cowboys Cheerleader ... it was a new small graphic design and printing business with only about a dozen of us, her uncle who owned the business, brought her in after she been out of college about a year, to give her a job, she done sales on a commission basis, hustling up business, finding new customers, she would find jobs/ clients, I would plan and layout the jobs for press basically. I never realized how difficult it was to be a professional cheerleader, the competition, pay or anything about it ... so Kerri filled me in on alot about it. She had an obligation under contract, to do various fundraisers, conventions, childrens charity shows, etc. ... so she had a full time job it was like, just being on the squad, cause you're working off the field year round, not just football season. She actually loved her job being a Cowboys cheerleader, the workouts, discipline, rehearsals, etc ... she never had any complaints about it. What surprised me most, was when she told me what the pay was ... I had no idea, thinking that they were well compensated, and asked her what drives her to be in it? She told me, the challenge of making the squad with hundreds competing for it, and that it gives you a shot at other opportunities, you get television appearances, travel some, and she even got a couple little modeling gigs on the side in local fashion shows, so it worked out for her. They also have over 100+ different dances that they have to do on cue during that 3 hour game time, and intro performances, halftime ... maybe to rev the crowd, or for a score, depending on the situation. Several injuries can come up to, whether sprains, broken bones or related, the choreography is very detailed.
NFL cheerleaders are supposed to represent the team, NFL, and community wherever they are off the field, according to their contract, they are strict as far as how you carry yourself off the field too, so you have a full time image to present too ... from your speaking and personality to your everyday dressing, I assume that every team has their unique guidelines or conduct. Kerri once told me that she only was able to gain 2- 3 lbs at most, so they are strict on weight, which is understandable on weight, but it is very strict. The NFL is a multi- billion dollar business, all your players get decent pay, even if they just sit on the sidelines, your mascots get salaries and benefits as well ... the cheerleaders also do shoots for the calendars, posters and other merchandise, as well as do extra performances for charity or special events ... Cowboys cheerleaders have been alwayz in demand, and are one of the most popular crews. The money generated by the NFL is at all time highs, as far as all else it generates, and all the sponsors ... from alcohol sales to hospitality, to merchandising, it's a big money maker. This weekend for example, just on the Super Bowl game, a million folks will pour into Houston to watch the New England Patriots take on the Atlanta Falcons ... hotel rooms alone will go from the 100's of dollars to $5000 a night or so, entertainment venues will rake in a bunch, all the merchandise and memorabilia. Cheerleaders will have to make special performances, and day and night, and to also perform a choreographed set for the half time performers appearing, I believe Lady Gaga is the headline performer this year(?). They are doing alot to not get a fair share piece of the pie. This has went on too long as it is, and hopefully with enough pressure from veteran cheerleaders, it will inspire new cheerleaders to take action too, and make changes to how the NFL and their teams deal with these workers. Some read and video linked below, and I closed out with a video interview and dance lesson from Cowboys Cheerleaders.
Word Out ....
Cheerleaders suing NFL over wages ... Thanx to
KTNV Channel 13 Las Vegas
***** ABC NEWS:
Former Cheerleaders Sue the NFL, Alleging Conspiracy Over Unfair Wages
... (newsread/ video)
****************************************************************************
****************************************************************************
Former Cheerleaders Sue the NFL- ESPN Feature ... Thanx to
Bradshaw & Associates, P.C.
****************************************************************************
***** PD/ RCJ:
"AMERICAN JOBS"
PART'S 6 THRU 1
****************************************************************************
The Dallas Cowboys Cheerleaders Give Rocsi Diaz A Lesson! ... Thanx to
Hollywood Today Live
****************************************************************************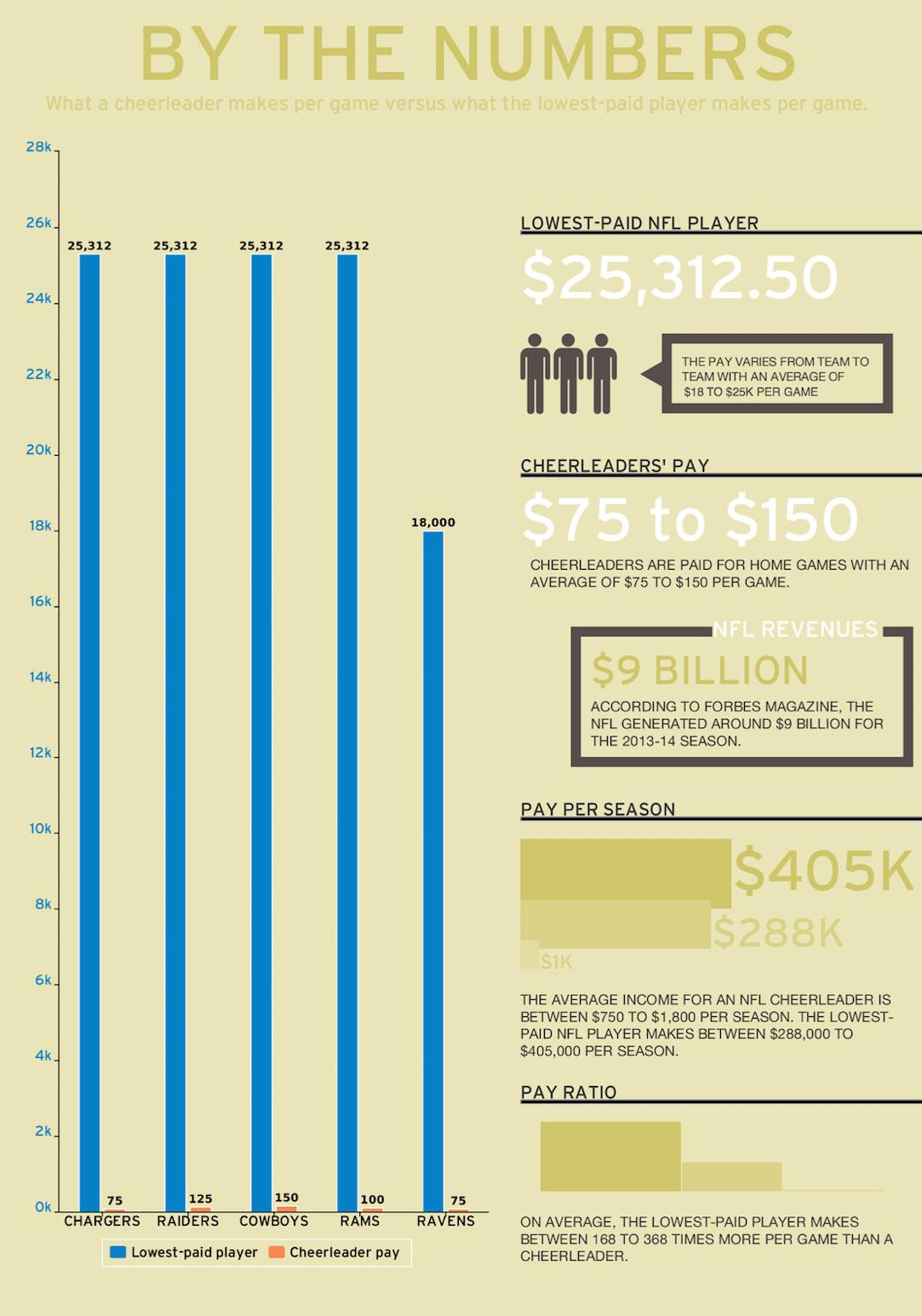 *****************************************************************************
*****
RANCH CHIMP JOURNAL "WELCOME" POST
*****
RCJ MUSIC/ ART'S HONOUR ROLL SOCIETY
(my hand- selected music/ arts picks)
****************************************************************************