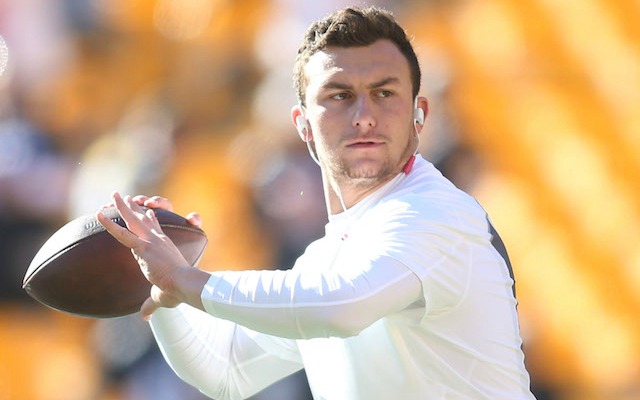 JOHNNY "FOOTBALL" MANZIEL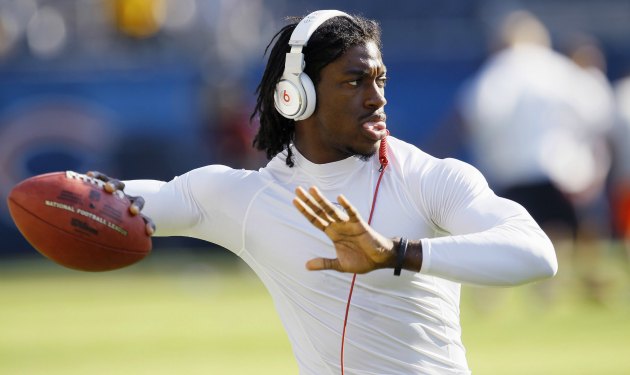 ROBERT "RG3" GRIFFIN III
This posting is another local for here in Dallas concerning the condition of the Cowboys and
Quarterback Tony Romo
, whether Cowboys fan's realize it or not ... we have a problem here. Let's face it, Cowboys went into the shitter this year because of injuries and finished this season in last place in their NFC East division, last season they were first place and the NFC East Champions, this last season was the worst since like 1989. We also lost the best NFL rusher
DeMarco Murray, and as I expected
, he didnt do nothing this year hardly while trying to work into Philadelphia's system. For the last couple years I been talking with Cowboy fans locally about getting a new quarterback, when Johnny Manziel came up in the 2014 draft, I was a little excited and hoping that Cowboys owner
Jerry Jones
would grab him if possible, even though Dallas was doing good then, I still wanted to scout a new quarterback and a "young" one in the hopes of grooming him into the team where he can spend a decade or more with us. Several folks come away thinking that I have something against Tony Romo alwayz talking about getting in someone new to groom to start. It is NOT that I dislike Tony, I actually love Romo as quarterback, even though he wasnt a top draft choice, and he was self bred more or less ... he has good stats, he communicates with the team well and has good leadership qualities, when Tony got the quarterback starting position with the Cowboys and was young, I was excited ... although, he hasnt proven yet to be able to win the "big one", but the 2014 season we got one or two playz from being in the NFC Championship game and possibly a SuperBowl, Green Bay knocked us out of that one though (when officials called back
Dez Bryant
's touchdown). My concerns about Tony came a couple years back (he's 35 yrs old now) when he had the shoulder injuries/ surgery, the season before last when having another surgery to the same shoulder, I was concerned, then again this year and all over again, especially at his age ... he needs to avoid these kind of hits, you cant continue to get hurt like that, and having repeated surgeries on the same part of you is not cool.
Troy Aikman
for example, despite how great he was, was told by the doctors ... he couldnt continue to get those concussions to the head ... it will hurt him permanently, Troy took the doctors advice and retired ... if you're a lucky, good and healthy/ non- injured quarterback in the NFL, the most you can go is to about roughly 40 years old on average I figure, and that's pushing it. I was concerned about Tony, NOT disliking Tony ... I told folks a couple years ago, if he gets hurt, especially on that same shoulder, it will be hard on him ... and here we go again.
News now is that "both" RG3 currently with the Washington Redskins ... as well as Johnny Manziel with the Cleveland Browns want to come to Dallas to quarterback ... and I'm excited frankly! I think they're seeing what I do as far as Tony's dayz being limited and want that chance to fill in and become a Cowboy. I mean ... how lucky can we get to have two great's that came out of college as the cream of the crop/ top of the line, both with multiple awards and winning the Heisman Trophy? ... wanting to both come to the Cowboys, eh? ... also let me add, that both are out of Texas originally, bred in High School and College football in Texas. Johnny is now 23 yrs old and RG3 is 25 Yrs old ... both at a prime age and well established already in the NFL as well for a couple years. I heard that Jerry Jones already eyed Johnny when he came up in the draft a couple years ago, but I also heard that Jerry's son may have talked him out of grabbing Johnny, but of course Cleveland got a better chance in draft pick's too, because of their lousy record ... as we also have a chance this year with our lousy record for some good draft picks ... the quarterback position is also very critical this year in my view. Even if Tony recovers well this coming season and has a good year, he need's some strong backup talent that we have to get ready for this season, let's face it, as Skip Bayless sayz below in the video ... do you think we would have lost so many games this year with a backup to fill in for Tony like Johnny Manziel? ... you can bet on it we would have pulled out a few more games that we barely lost, and probably have a wildcard spot this year at that in the Playoffs ... wide receiver Dez Bryant was also out much of this last season with injuries ... it was a bad luck season! What do we have now as backup's? ...
Matt Cassel
(33 yrs old) and
Kellen Moore
(26 years old)? ... and maybe I'm wrong, maybe Kellen is the answer ... maybe a new one I havent heard of straight out of college this year. But, unlike coming straight out of college, both Johnny and RG3 are sort of veterans, despite their young age, being that both had a chance to get "some" NFL experience already ... and Jerry does like to have someone that is broke in already to a degree as far as having that backup position. I frankly like to grab Johnny and get him in Dallas ... and I would even like RG3 as a 2nd choice ... although RG3 is bigger than Johnny, longer arm, and not in trouble as Johnny with that wild lifestyle. Either Johnny or RG3 we can bring in at a good price right now, being they would come in as a backup, then later after they prove themselves/ pay their dues ... we can renegotiate a contract to compensate them much better ... and Jerry is no cheapskate, you prove yourself, Jerry will pay well!
Both Johnny and RG3 are having problem's with their team's ... some folks think I'm crazy for wanting to grab Johnny especially, they look at him as trouble ... Cleveland is certainly fed up with him and his so called wild lifestyle off the field, partying and drinking etc, saying that he been sneaking now to Las Vegas on the weekend to party ... and Johnny is frankly fed up being in a place like Cleveland, playing games in an outdoor stadium right on the shoreline of Lake Erie in winter months! Some think that Johnny who hasnt kept up with his rehab for drinking or whatever, cant handle the temptations of coming to a town like Dallas with it's dazzle and nightlife it's known for, known for football stardom and the Cowboys flashy reputation, and that he would really fuck up if he had to come and be in this town's environment, etc. You know ... I like to give the kid a chance, he's still young and restless, at an age where some folks live a little ... let's say wild ... sure he screwed up and has a not so good reputation ... many of us have screwed up when we were in our early 20's, I'm not gonna lie, I sure as Hell did! Some say that Johnny is too small at 5'-11"/ 6'ft and around maybe 214 lbs ... I dont agree ...
here is some of the greatest short quarterbacks in NFL history
. Sure he may be a chance ... but I look at the potential he has ... I really feel that taking a chance on this kid is worth it, we have nothing to lose, I think he can be one of the all time NFL greats with the right mentoring and coaching, I see him as having real leadership qualities as well and a tough one to break, and one that can scramble and move well. Coming to Dallas as he matures in the league, may help him also wind down, and really focus on what he can be around the right people ... I could be wrong, but I like to take a chance on him. RG3 has had problems as well trying to fit in with the Redskins, not the same problem's as Johnny though as far as the partying lifestyle. RG3's team dont seem to get along with him ... he was called a "loner", "outsider" and not getting along with coaching staff, etc ... obviously as well he is about as fed up with the Redskins as they may be with him ... maybe he's just around a crew he cant get along with or whatever. RG3 is also a bundle of talent, he is also larger than Johnny with a powerful arm, who I also think has much potential ... however, he has had some past and current injuries and concussion too, that was concerning to me. But the Redskins have rumor of cutting RG3 and he wants to come to Dallas ... I think RG3 in the right environment can showcase his talent big time ... I think he is just right now in the wrong place at the wrong time. I really have Johnny though as my first choice regardless of his smaller size ... and hope that Jerry takes a chance at hiring him. But enough from me and on to some video and newsread below.
Word Out ....
*****************************************************************************
***** YAHOO SPORTS:
Should Cowboys push for RG3 or Manziel to back up Romo?
... (newsread/ video)
ESPN First Take- Is Johnny Manziel's Future with Dallas Cowboys ... Thanx to
SURI
***** ESPN:
Jason Garrett must get Cowboys' backup QB situation right in 2016
... (newsread/ video)
*****************************************************************************
Johnny Manziel Heisman Highlight Video Part 1 HD ... Thanx to
TAMUHIGHLIGHTS WHOOP
... I was telling a couple guyz I know, that I wanted to do a write- up on Manziel in particular to showcase him ... one guy who is a Cowboys fan and not very fond I guess of Johnny said ... "Why?, nobody wants him ... he's a fuck up" ... I told him ... "I do man!" I picked some highlights of him in his college dayz at Texas A&M ... watch the way this guy moves, and he is NOT a running back, wide receiver, or tight end ... he is a quarterback, THIS is why I want him!
Baylor Football: Robert Griffin III- The Career ... Thanx to
BAYLOR ATHLETICS
... I also wanted to add some of RG3 highlights from his college dayz at Baylor ....
*****************************************************************************
*****
RANCH CHIMP JOURNAL "WELCOME" POST
*****
RCJ MUSIC/ ART'S HONOUR ROLL SOCIETY
(my hand- selected music/ arts picks)
*****
RCJ/ THOMAS PICKERING: GOOGLE+
(video posts)
*****
THE RESISTANCE/ PERIL'S OF THE POWER POSSE
(inspiration for hope & change) ... to be viewed as a "profit- see", not a "prophecy".
*****************************************************************************