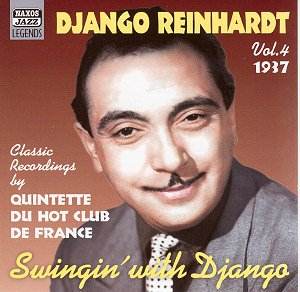 This posting for the music sector of this journal will honour one who's spirit will remain with me through his great genius composition and contribution to Jazz. A master of string's and genius in my opinion ...
Jean "Django" Reinhardt
.
Mr.Reinhardt was born in Belgium in 1910 (1910-1953) and spent much of his childhood in Gypsy camp's outside Paris,France, co-founder of "Quintette du Hot Club de France" band ... most noted for his guitar work .... a master of guitar, banjo, and violin ... played with many great American Jazz name's such as Dizzy Gillespie, Louis Armstrong, and Coleman Hawkins to name a few. For me .... his music was a "Serenade for the Soul". One of many that I am obligated to honour in this journal for his (their) contribution's and creativity. Thank You for all the great art Sir! ... Enjoy!
Django Reinhardt- The Sheik of Araby ... Thanx to
VPMATT
Django Reinhardt- J'attendrai Swing- 1939 ... Thanx to
M3MNON
******************************************************************************