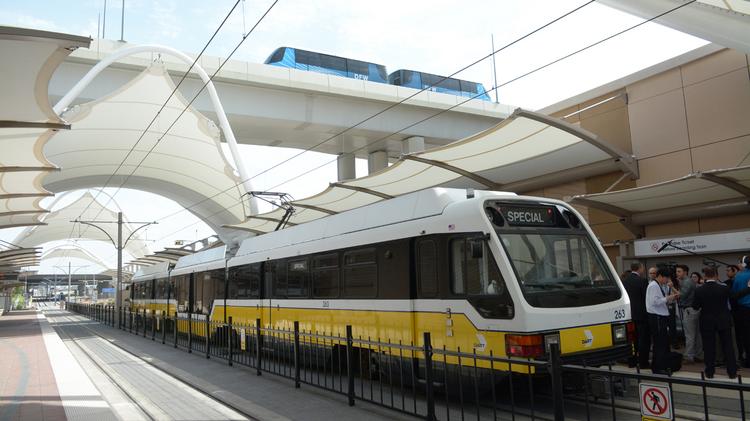 Part 25 of this series is some local DFW news that you may not hear much about around town, since so much talk is about more
freewayz, tollwayz, and traffic
as far as transportation issues ... but this is more importante than these tollway expansion's in my opinion and a BIG plus! This will take a look at the direct DART rail service that will open next month (august) to the
DFW Airport
Terminal A. This has been fought against tooth and claw for year's here by some, from tax payer's to mostly taxi and shuttle lobbies trying to suppress especially to DFW and Love Field airports, rail expansion's to them, even for year's American Airlines at DFW trying to buck Love Field from expanding their airline carrier's and flight destination services, which has all finally came to an end ... so it's kind of been a long battle locally over "$$$$". Also I want to add that the
rail expansion overall across the Metroplex over the last decade has been about the fastest and largest
that I ever seen. And Thanx to taxpayer's, but also Thanx to the Federal Government, because we have had also a certain cult here in Texas (you know who they are) that has whined constantly over the Federal Government, and every bloody tax proposed down to the nickel ... the Federal Government has poured alot of dollar's into this ... okay(?) Also from what I read by 2018 Fort Worth will be running a new rail line into Terminal B from downtown Fort Worth, you can connect from any of the
rail system's/ lines in the Metroplex now though, whether it's any of the DART lines, TRE/ DFW commuter line or the Denton A- Train's
, etc. Also when you get into the airport you have the airport's own rail system called
Sky Link to connect all terminal's/ gates
... so it's a complete train chain link.
Cities up north such as New York, Chicago, Philly, etc, as well as your cities in Europe for example have been a step up on us in this area for year's, they had long established rail system's and done well on structuring their cities around it, while town's in this part of our nation such as Houston, LA, Phoenix or Dallas were based on freeway system's far too much,
LA for instance has been also really picking up on rail expansion well
, which was long past due, because of traffic and smog ... and any kind of rail system's and combination's of types is what we all need more of,
including this new high speed rail for Texas
... introducing rail to freeway cities has been a challenge. This will have a very positive impact as well on business that some are not looking at yet, they say they will be thrilled expecting airline passenger 1200 rider's a day? ... I would bet it will attract alot more once word of mouth get's out ... and also DFW Airport has 60,000 employee's ... how many of them will decide to use it, eh? ... how much will it reduce some of the rush hour traffic into and out of this airport? You can now go directly into downtown's Dallas Convention Center from your terminal for $2.50 or Uptown to Info Mart, Market Hall, World Trade Center, etc ... compared to a $45/ $50 cab fare or fighting freeway traffic, or having to go to the southport entrance of the airport via bus shuttle to catch a train like before ... my daughter for instance is a frequent flyer because of her job, so for folks like her it's a good deal too. From what I read, train's from downtown Dallas to the airport will start at 3:50am, and the last train at night from the airport to downtown will leave DFW at 1:12am, the trial run in the below video was slowed down for the first run, it will reach speed's of 60/ 65 mph when in operation. More below ... Word Out ....
***** KERA NEWS:
DART's Direct DFW Rail Line Makes Preview Run
DART Orange Line to DFW Airport Preview ... Thanx to
THE CITY OF IRVING
***** PD/ RCJ:
"TASTE OF TEXAS"
PART'S 24 THRU 1
*****************************************************************************
*****
RANCH CHIMP JOURNAL "WELCOME" POST
*****
RCJ MUSIC/ ART'S HONOUR ROLL SOCIETY
(my hand- selected music/ arts picks)
*****
RCJ/ THOMAS PICKERING: GOOGLE+
(video posts)
*****
THE RESISTANCE/ PERIL'S OF THE POWER POSSE
(inspiration for hope & change) ... to be viewed as a "profit- see", not a "prophecy".
*****************************************************************************