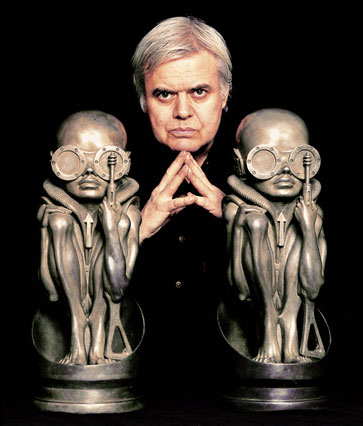 This art posting for this journal to be included in the "
RCJ MUSIC/ ARTS HONOUR ROLL SOCIETY
" is long past due as well, it is some of the work of
Mr.H.R Giger
, which was difficult for me to choose from ... he has so much outstanding work! I have been a devoted fan of his for year's. In the mainstream, he probably is most known for his work in the film "Alien", which he received an Academy Award for. Some have been said to find some of his work perhap's a tad disturbing .... but before you look at any art ... you must free your mind of the chain's which enslave it, to embrace or appreciate it's own beauty .... the creative imagination is as infinite as the universe. But here are a few piece's from this 20th/ 21st century artist to .... Enjoy!
Also, the music here is from
Sufjan Stevens .... and called "The Year of the Rat"
.
The Dark Art of H.R Giger ... Thanx to
ENDRID
*************************************************************************************************************
*************************************************************************************************************