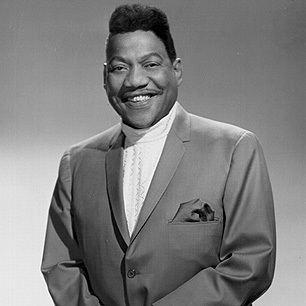 Bobby Blue Bland
(left to right) Junior Parker, Elvis Presley and Bobby Blue Bland (3 of America's greatest blues singers together)
This induction into this journal's music/ arts honour roll society is to highlight some of the great worx of blues icon
Bobby Blue Bland
who recently passed away, and what a career this man had with so many album's of his worx that had such an impact and influence on so many musician's, not just in R&B/ Soul music, but the root's of rock and roll as well, Bobby even had 23 Top 10 on Billboard's R&B, and a voice as smooth as silk and to prefection!, which many looked at him as the Sinatra of Blues, Bobby also is in the "Rock and Roll Hall of Fame" as well as the "Blues Hall of Fame" and received the "Grammy Lifetime Achievement Award" ... and this journal's music/ arts honour roll couldnt be without this artist.
Bobby started his root's as a kid in his hometown area of Memphis (TN) ... also was one of the great's out of the downtown Memphis' Beale Street blues district (which I highly recommend if you visit Memphis), starting his career singing with various gospel crew's, again ... the gospel group's in America have produced some of the greatest vocalist's I have ever heard! Bobby is also a U.S. Army
veteran
, and what is also unique about this great, is that he never even went to school or even ever knew how to read or write, yet his lyric's are poetic justice at it's best ... and from the heart and soul ... not from any institutional programming or schooling. I chose a few of his classic piece's to highlight some of his smooth work below ... Enjoy!
**** I also wanted to dedicate this posting in particular to a couple, Booney and his other half Chef (both passed away as well years back) Booney was originally from Harlem/ NYC and
friend's of Harmon Loft
, and his lady Chef was actually what is called today a transgender, who looked as much a female as any woman could even hope for (very classy and attractive looking). Booney and Chef owned and operated a nightclub which was also a gambling and brothel business down outside of Pittsburgh (PA) in the early 1970's in Uniontown (PA). Booney had helped me out in some of my troubled times as a kid when I needed it most, without folk's like him ... I frankly wouldnt even be around today probably. During close up time in the wee hours of the a.m. at their nightclub in Uniontown, it was common to see Booney and Chef through the smokey dim lit club slow- dancing to the soft smooth soul of folk's like Bobby Blue Bland and
Gladys Knight
as another night winded down, only few folk's left ... either with the ladies at the brothel upstairs or nodding out in booth's from the heroin, or drowning their blues with that last bottle over their losses at the gambling tables, an experience that brings back memories I cherish ... so this first song is dedicated to Booney and Chef.
***************************************************************************
*****
"RCJ MUSIC/ ART'S HONOUR ROLL SOCIETY"
A THRU M
*****
"RCJ MUSIC/ ART'S HONOUR ROLL SOCIETY"
N THRU Z
***************************************************************************
"Members Only"- Bobby "Blue" Bland ... Thanx to
MALACOMG
Ain't No Love- Bobby Blue Bland ... Thanx to
VEL VEGAS
Bobby Bland- "Poverty" ... Thanx to
MAGPIEPECK
Bobby Bland- St. James Infirmary ... Thanx to
SHORTRAX
****************************************************************************
Uniontown, Pennsylvania
*****************************************************************************
*****
RANCH CHIMP JOURNAL "WELCOME" POST
*****
RANCH CHIMP JOURNAL/ YOUTUBE
(posting's preview)
*****
RCJ MUSIC/ ART'S HONOUR ROLL SOCIETY
(my hand- selected music/ arts picks)
*****
THE RESISTANCE/ PERIL'S OF THE POWER POSSE
(inspiration for hope & change)
*****************************************************************************