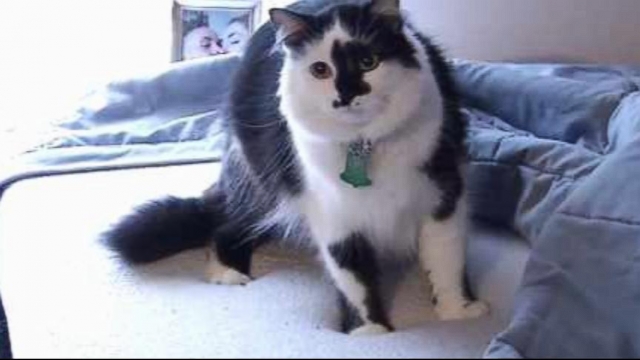 Fat Cat "Lux"
Part 9 of the "Helluva F'n Day" series will have to go to this recent somewhat bizarre case in
Portland
I picked up on. When I first heard this, it sounded a lil fictional ... or like something I would expect from a
Stephen King
flick/ movie or book, but no, this is for real! Basically the 7 month old son Jesse of Teresa Barker and Lee Palmer grabbed the cat by the tail, the cat got the red- ass and started a hostage situation where this familia had to barricade themselves in a room even with their dog who was threatened as well ... and this is one of them cat's that's a big boy ... but what a story and I'm sure a Helluva f'n experience they wont forget soon!
This cat (Lux) in my opinion is a spoiled brat, and lucky to have such a forgiving and loving familia as Lee & Teresa ... a cat that need's another good swift kick in the ass as Lee appropriately handed him ... the poor 7 month kid Jesse is too bloody young to know any better, and this cat has a history of acting violent as well. My wife for instance usually is in charge of the household in our home ... but when a situation comes up like this, where if this was our cat and attacked my wife and/ or 7 month old child ... I would quickly become let's say "Head of Household" ... and believe me ... your lil plump roly- poly ass would probably be a dead mother fucker ... and soon be fillet'd on my dog's puppy chow dish! More newsread and video below.
Word Out ....
Man Card REVOKED after Father calls 911 after cat attack ... Thanx to
Chris Heinemeyer
***** THE OREGONIAN:
Aggravated cat is subdued by Portland police after terrorizing family
(newsread/ video)
*****************************************************************************
***** PD/ RCJ:
"HELLUVA F'N DAY"
PART'S 8 THRU 1
*****************************************************************************
The MasturBones- Kill The Cat ... Thanx to
VIAIRNERIO14
**** I will just add this music video for this posting which by my standard's I felt appropriate {: )
*****************************************************************************
*****
RANCH CHIMP JOURNAL "WELCOME" POST
*****
RANCH CHIMP JOURNAL/ YOUTUBE
(posting's preview)
*****
RCJ MUSIC/ ART'S HONOUR ROLL SOCIETY
(my hand- selected music/ arts picks)
*****
THE RESISTANCE/ PERIL'S OF THE POWER POSSE
(inspiration for hope & change)
*****************************************************************************