Long Beach 1948 ... (mid 20th century oil derrick sites)
This posting will serve as Part 43 of the "Global War'n'ing" series of this blog/ journal ... and Thank You to Randy here in Dallas for bringing this subject up and inspiring this posting, because I wanted to have something recorded in this journal on it, and no one ever really talked to me about this before that I can recall, and it's related to the fossil fuel industries. Randy and I during some small chat about a week ago were talking about concerned
folks here in the Dallas area that dont want fracking
, the increase of earthquake activity here, and the impact of structural and foundation damage that I brought up to him, etc., Randy is angry about how Texas doesnt seem to care about those things, and basically told me that we need to have more regulation and such like a state like California does, and we wouldnt have these disputes and hog wild fracking or related. I then asked Randy if he ever been to LA, Randy said the closest he ever been to California was a couple months back when he took a lady he is dating to Las Vegas, I told Randy that LA has oil wells and 24/ 7/ 365 oil extraction all over the metro area and even in central LA, so much, that I call it "Pumpjack City" at times ... because of the new technologies in oil drilling/ extraction, they have drastically reduced the amount of well derricks, but pumping away still at a high rate, back in the old dayz, you may have needed 50 derricks for one sector of town, today because of technology, you can have one derrick pulling from several dozen different locations. But I said to Randy ... "Hell Randy, oil is what made LA", he thought that the motion picture/ film industry of Hollywood did (which did to some extent as well), but oil is what made so much money for the town and still does to this day, Randy was surprised and interested about that, so I filled him in.
Sure, LA/ SoCal has had much more regulation/ oversight, and basically for like cosmetic reasons got a sort of facelift I guess, when they simply covered up and camouflaged all the activity ... some folks that commented on the first Vice News video thought it is unfair to portray LA like this ... it may be by some folks/ Angelenos standards, but the reality is that LA and all over the LA area, is saturated with oil extraction activity any way you slice it, and is one huge oil field, and still is dependent on such, I have been to so many cities coast to coast in America as I told Randy, and never seen a city with so much of this activity going on throughout it. LA's oil business was around before even many neighbourhoods were even built, new neighbourhoods that were built around the existing oil industry, not the other way around, this is a century old. It is so common in LA, that many residents dont even think of it ... in more upper income areas, it may be camouflaged within some structure built over/ around it, some even look like office buildings, then in some more lower income working class areas, it is right out in the open, outside your apartment/ home, school, neighbourhood store, restaurant,etc. Most folks ignore it ... and if your nose burns one day, you just think it may be the smog or whatever, but some have complaints about it too and questions as far as health concerns, the LA area is also saturated with fault lines and is known for earthquakes, but no, I dont really know the health impact of this, if any. I searched for some video and link for this, so some video and read I found below.
Word Out ....
Crude L.A.: California's Urban Oil Fields ... Thanx to
VICE NEWS
***** KCET/ LOST LA:
When Oil Derricks Ruled the L.A. Landscape
... (some history and vintage photos)
THE HIDDEN OIL RIGS OF LOS ANGELES- [For OVER 80 years] [MIRROR] ... Thanx to
TRUTH4FREEDOM
****************************************************************************
***** PD/ RCJ:
"GLOBAL WAR'N'ING"
PART'S 42 THRU 1
****************************************************************************
Cardiff Tower- West Pico Blvd (West LA) for Beverly Hills oil field ... (early 21st century oil extraction sites, camouflaged such as this tower)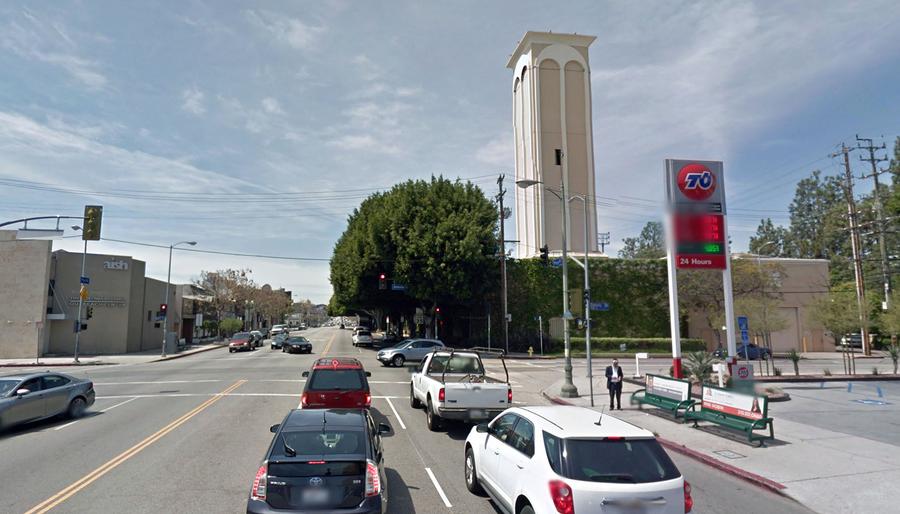 *****************************************************************************
*****
RANCH CHIMP JOURNAL "WELCOME" POST
*****
RCJ MUSIC/ ART'S HONOUR ROLL SOCIETY
(my hand- selected music/ arts picks)
*****
RCJ/ THOMAS PICKERING: GOOGLE+
(video posts)
*****
THE RESISTANCE/ PERIL'S OF THE POWER POSSE
(inspiration for hope & change) ... to be viewed as a "profit- see", not a "prophecy".
****************************************************************************