*****
OTEPSAVES.ME
This posting for this journal's music/ arts honour roll society will also be included in the "Beautiful Girlz" series of this journal ... to highlight the music of "
OTEP
" and the frontwoman vocalist for the crew Ms. Otep Shamaya. First of all though, much credit to her crew/ line- up of co- worker's who are absolutely outstanding, and really make her strong vocal abilities shine. They are based as far as I know out of the LA area (although I read that "Otep" also was born "Shanelle Baty" in Austin Texas), starting in the trenches there, before even having any official material out caught the eye locally of Sharon Osbourne (
Ozzy
's wife) and was next working
Ozzfest
besides the local LA gigs and circuits, and really caught the eye of so many, even making it on the Billboard 200 and abroad, been a company since 2000 already with a couple EP's, half dozen studio album's and a "live" album. I dont even know exactly what genre I would put these guyz in, or even what they may evolve into later, because their music changes up so much over the year's and they are very open to trying new stuff and instrumental change up, although they fall by most into various metal genre's ... they are just plain fucken tight across the board is the only way I can put it!
And Otep herself is really genius to me as far as her arts, being a painter, poet (even worked on HBO) an actress/ actor, intense vocalist and very versatile on what she is capable of doing, she is beautiful, intelligent, hard working and creative, speaks from the heart with a no bullshit approach to everything, sort of a political activist in my opinion, and her poetry and expression is strong, the creme of the crop of American women to me! ... which is getting to be even more rare these dayz, despite how far we came unfortunately, due to pop- culture programming of course and herd mentality. Of course there has been a tad of bitching about her art and controversy, but I wont even go there, so if you want to read any of that, you can look at the Wikipedia link above ... that is the type of plastic society we have in large part, you speak straight and some folk's whine, period. Music, lyric and poetry is just that ... it is art, perspective, expression, etc, period.
There is so much of this crew and woman that I wanted to put here, but had to choose what I felt was the best to me to highlight a few music video's which show the versatility of sound and composition, and really great lyric work I may add too (
Lou Reed
another favourite of mine on lyric's). Actually when it comes to theme and lyric's of Otep, I would like to see her hook up with a fella Felipe Coronel (aka "
Immortal Technique
"), if I were a producer say working with her, even though their genre's are different, I feel they could find alot of common ground, and would find it interesting to work with them both on creating something new, with say some hard edged industrial music worked in. The "Apex Predator" piece is off the 2013 "Hydra" album, and "Breed" is an excellent "Nirvana" cover they done, with also "Confrontation" both off their 2007 "Ascension" album. Then I wanted to toss in a couple pieces after of Otep on "Climate Change" and some of her 9/11 poetry from her book "
New Word Order
" ... and wishing her and her crew the best of the best to come! ... Enjoy!
***************************************************************************
***** I wanted to add this interview from february of last year with Otep with hint's of ending the band (?), but most importantely because of the reason's she explain's in it. This is another problem in todayz new corporate maneuvered industry and the accessibility to free music. I hear about this myself from so many folk's that I known even on inde label's, and then when people do get larger contract's, the restrictive atmosphere, as well as getting store's that will sell your CD's etc ... it is really complex to get into in all the detail here ... and the bottom line is also that artist's like many other's that have something to offer cant make a decent living or are too manipulated by the industry. I myself actually do buy CD's/ music, as well as shopping at inde small local businesses, and I have quite a collection.
I understand what Otep is saying here totally, I knew so many people who sweated in this industry and even though they were alwayz gigging, they were alwayz somehow in the red, then locked into producing more while even on the road (yes, actually using their downtime to work on next year's project while pounding/ working the gig circuit's/ touring) and in debt out the ass! I mean, you spend in prep and touring a minimum of 16/ 18 hour's a day and most likely 6/ 7 dayz a week, (and some people actually wonder why "some" artist's go out and may party wildly after work or even indulge in thing's like cocaine? ... why in Hell do you think? do we realize the pressure's on working artist's? ... you have no fucken life either man half the time!), but it's difficult to understand this if you never worked in this industry ... it can drive you half fucken crazy if you dont take a "time out" like any strenuous career. My daughter for instance initially out of college was to go further in this industry as far as career, decided to go into another career with her degree and left music ... however, she still sing's locally on the side, just not for a living ... she basically walked away for money/ career reason's (she experienced what it's like to rehearse/ record, perform and tour as a teen while still attending high school year's, which was alot of work), but it's still of course in her blood since she started at such a young age and was schooled as well in music (arts academy) and the industry.
Whether or not Otep can refrain from playing and writing music is questionable to me ... I mean like, it's in your blood, it's a part of you and your fiber so to speak, you can retire, but you cant never leave it ... in a weird way (difficult to explain for me), beside's death in my view. She is still at a young age is also why I have to question it, so my guess is perhap's she will take her art talent's into other direction's on the music end. Although I realize that she is so occuppied in her sort of activism politically, poetry, etc ... I dont see her as abandoning music altogether. Taking a rest Dear (Otep) is most needed and healthy for you physically and psychologically, and I personally am hoping to see you back with something in the future, you are very talented and have much to contribute, not just slap- happy nonsensical lyric's and pre- mixed sampled music for pop culture that is saturated in so much of the mainstream industry today
***** NOISECREEP:
Otep Mastermind Explains Why She's Ending the Band (INTERVIEW)
***** EXAMINER.COM:
Otep Interview: 'I Never Declared Hydra Would Be The Last Album'
***************************************************************************
*****
"RCJ MUSIC/ ART'S HONOUR ROLL SOCIETY"
A THRU M
*****
"RCJ MUSIC/ ART'S HONOUR ROLL SOCIETY"
N THRU Z
***************************************************************************
OTEP- "Confrontation" Official Video ... Thanx to
KOCHRECORDS
OTEP- APEX PREDATOR- OFFICIAL VIDEO ... Thanx to
DR. OTEP SHAMAYA, ESQUIRE
OTEP "Breed" Official Video ... Thanx to
KOCHRECORDS
***************************************************************************
***** PD/ RCJ:
"BEAUTIFUL GIRLZ"
PART'S 11 THRU 1
***************************************************************************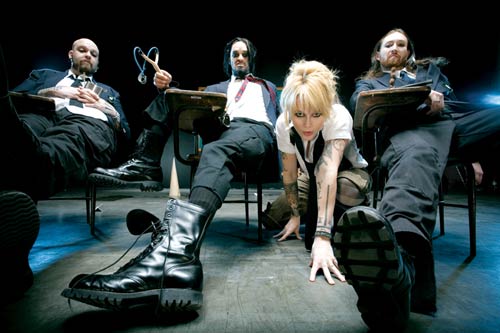 ***************************************************************************
OTEP reads a poem from her new book: NEW WORD ORDER ... Thanx to
DR. OTEP SHAMAYA, ESQUIRE
OTEP reads her retort on Climate Change ... Thanx to
DR. OTEP SHAMAYA, ESQUIRE
***************************************************************************
*****************************************************************************
*****
RANCH CHIMP JOURNAL "WELCOME" POST
*****
RANCH CHIMP JOURNAL/ YOUTUBE
(posting's preview)
*****
RCJ MUSIC/ ART'S HONOUR ROLL SOCIETY
(my hand- selected music/ arts picks)
*****
THE RESISTANCE/ PERIL'S OF THE POWER POSSE
(inspiration for hope & change)
*****************************************************************************