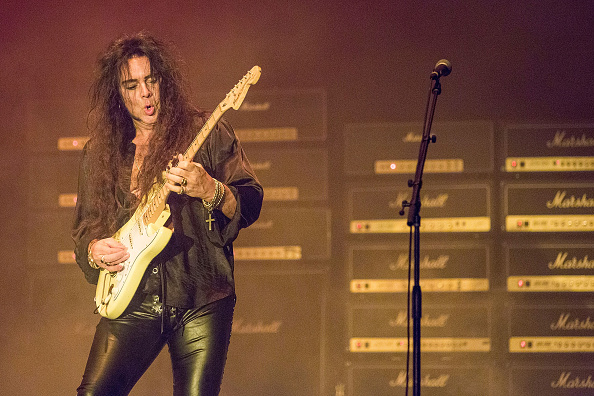 This posting for the
RCJ MUSIC/ ART'S HONOUR ROLL SOCIETY
will be to show some of the work of Swedish guitarist/ composer
Yngwie Malmsteen
, past and present with his band/ crew as well that I wanted to highlight because also one of my favourite vocalist's
Jeff Scott Soto
, a solo piece at a baseball stadium that is a nice version of the National Anthem as well as his Concerto Suite work's with the Japan Philharmonic Orchestra.
A previous solo single post here of Yngwie
.
Year's back (early 1980's or so?) a friend, Todd Kirkland and local Dallas Area drummer ( who was an outstanding metal percussionist I want to add, inspired by folk's like
Neil Peart
of Rush ) I worked with gave me an old beat up tape one day, a garage tape basically with no writing on it, and told me to check it out, that he think's I will like it, he said it was some bootleg tape of some guy in Sweden named Yngwie Malmsteen, I had no idea who Yngwie was or heard of him before, it was about 30 minute's of guitar/ string's work, very powerful metal sound, with a unique semi classical composition it seemed, needless to say, I was hooked! Of course anyone who know's of his work, know's of his unparalleled string's instrumental work and it's distinctive identity. And Thank You to Mr. Malmsteen for all the great art! Enjoy ....
YNGWIE MALSTEEN- OFFICIAL WEBSITE
FUGUE ... From Concerto Suite with Japan Philharmonic Orchestra in E flat Minor ... Thanx to
DARKTR4VIS
DISCIPLES OF HELL ... Thanx to
CXCXC ZX
... This from a 1985 show in Tokyo and featuring one of my favourite vocalist's, Mr. Jeff Scott Soto ... and what outstanding work Jeff does here on vocal's!
NATIONAL ANTHEM ... Thanx to
SUSHIUNAGI
... This National Anthem solo played @ Sun Life Stadium Miami for the baseball game.
****************************************************************************
****************************************************************************