*****
KITTY IN A CASKET/ OFFICIAL WEBPAGE
This induction into the "RCJ Music/ Art's Honour Roll Society" will be to highlight an outstanding crew out of Vienna, Austria originally ... "Kitty In A Casket". As far as the genre category they fall into ... let me just say "damn fucken good!" ... No ... I frankly cant pinpoint a genre for this versatile crew, but, they are kind of self labeled as a type of horror psychobilly pop punk of sort ... just dont ask me to explain it : ) This has been a crew that I been keeping a close eye on since first noticing them, they formed this project in 2008, and I would bet that they are going to be moving up really well from their sound, they absolutely blew me away on first listen of them.
Everything about this crew is in the first class express category ... the aesthetic's, theme, composition, engineering, visual concept's, direction as being fixed and structured well, excellent guitar work especially covering so much as far as rhythm pattern's and lead, an outstanding upright bass which is also a unique touch in this, really smooth flowing percussion/ drum's, harmonizing to a tee, and a front girl Kitty, who know's how to throw out that vocal work with a nice range and keep it smooth and sharp simutaneously, and really a fun upbeat crew as well, despite the darker theme's/ undertone in some of their work. Job well done, but not finished of course : ) ... you just started : ) ... and wishing ya'll the best! Enjoy!
*****
"RCJ MUSIC/ ART'S HONOUR ROLL SOCIETY"
A THRU M
*****
"RCJ MUSIC/ ART'S HONOUR ROLL SOCIETY"
N THRU Z
Kitty In A Casket- "Don't Get Me Wrong" Wolverine Records ... Thanx to
BLANKTV
Kitty In A Casket- Run Run ... Thanx to
DIEAPOREITER
Kitty In A Casket- Space Invaders ... Thanx to
ERICAJUNDELYON
Kitty In A Casket- Bride Of The Monster ... Thanx to
OERASERHEADO
****************************************************************************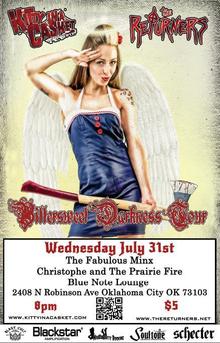 ****************************************************************************