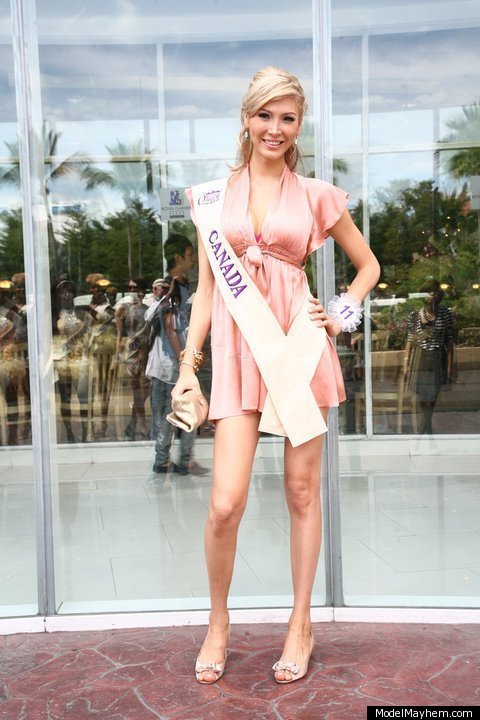 Ms. Jenna Talackova
Part 5 of the "Beautiful Girlz" series will be to showcase a young lady, Ms. Jenna Talackova who is to compete in the Miss Universe Canada Pageant. This of course has been such a big controversial issue as well, so needed to be also in the "Sexploitation Nation" (PT.18) series of this journal too, because of it. I have read and viewed quite a few opinion's over this, even she has had enormous support as well, yet also many who have excuses after excuses as to why she shouldnt be in it, whether it's because some gal's think that beauty pageant's are a waste and only exploit women, to the rant's over the fact that she lied on her initial application, and she wasnt "born a woman" (though that can be challenged), etc, etc ... you know the picture. I am NOT trying to give her any special treatment or favouritism over her competitor's here either, they are all hard worker's and beautiful ... and this is a tough business actually to compete in these event's, alot of work and art and sweat is put into it, bottom line.
But this sexuality thing is really a big issue with so many folk's, regardless of what kind of sex or activity it is and who ... we hammer everyone and everything over sex, yet indulge in sex across the board, it's just so twisted. And this country being a liberated free type democracy is especially critical on sex, much more than it should be ... I mean, I would expect it in some countries or culture's, but dont see it as fitting in our's is all. However, when it come's to this journal and series of beautiful girlz ... let me make it clear here, that it will include all beautiful girlz of my choosing, regardless of race, birth gender, etc, etc. The few folk's that do read this journal are fairly liberated I take it, and those who may not be so, need not comment either on these type's issue's.
I admire beauty, like art, plain and simple, and both vary and are in the eye of the beholder as to what is either. I also admire her strength for challenging what I feel are rules specifically wrote to "exclude", that's just my opinion on these type matter's. And the support for her to pursue this has been great! At least to be able to compete in something that she has obviously put her heart and soul into and worked damn hard to get. So Congratulation's to Ms. Talackova ... and from me your not only beautiful, but universal ... and a Princess ahead of your time ... Best of Luck : )
I also wanted to dedicate this posting to a friend from year's back as a young man, named Maya ... who I will add a personal story about after the read and video below.
***** MAILONLINE:
Transgender Beauty Queen allowed to compete in Donald Trump's Miss Canada Pageant after official claimed she lied on application form
***** OTRC:
Jenna Talackova, Transsexual Miss Universe Canada Finalist can return- Donald Trump
Disqualified Transgender Beauty Queen teams up with Gloria Allred ... Thanx to
IBTIMESTV
***** Short (true) Story: The friend I spoke of in the above "Maya", was a stage name of a transsexual gal that was a neighbour in Houston year's back when I was a young man. She said she didnt have yet the sex change, but took some type of hormones or whatever to I guess grow breasts, she was tall slender, very fashion model looking type young lady, worked in an upscale store's beauty salon, like an apprentice type fresh out of school (she was 20 year's old, same age as me), at night she liked to dance in popular Houston dance venues and she also competed in these local shows and pageants of transsexual types. She lived in the neighborhood, but pretty much kept to herself, yet, we just randomly met, had some small chat, and she was looking for some pot/ marijuana ... I was able to get her some, etc ... which led to small chat and such. I worked myself at the time for a place that was a oil/ lube/ car wash/ detailing shop down the street, and at night and weekends I liked playing music with local musicians as a vocalist and blues harp player.
Well, Maya and I talked alot about music, performing arts and related, and I invited her to a local club/ venue I liked playing music at, I told her of course it would be loud and hard rock type music, she wasnt into anything like that, mainly disco type dance stuff she was into, but she wanted to go and experience it, she blended in the crowd and I dont even think anyone suspected she was actually male, I mean, she looked and dressed like a rocker chick for the occasion, wearing a leather biker jacket, boot's and jeans type dressing. And she also invited me to one of her shows at a transsexual type venue in the Houston Montrose District, where they dance, lip sync songs, have fashion show competition and related event's, Maya performed and competed in fashion type shows. So it was an experience for both of us.
And of course having this friendship and communication was cool with me too, and she would also stop by my apartment and visit, maybe smoke a joint, have a drink, etc. Well ... I had a girlfriend across town that was a college student, and lived at home with her parents still while going to school, and we were kind of serious, or getting kind of ... and she found out about this neighbour/ friend, and to make it short here, found out through word of mouth also that my friend came by my apartment several times, and was also a transsexual type. And I told her when she asked ... that it was a neighbour and friend that I scored some pot/ marijuana for ... and we just would have small chat, etc ... just socializing like with any neighbour is all. This girl that I was fond of ... started spying on me and stuff, it kind of got weird, and she popped in on me one day crying, and said something like " I cant believe you're queer ... why would you do this to me" etc, etc ... I tried to explain to her that she had me all wrong, and I really did care about her, etc ... I even pleaded with her, tried to hug her and comfort her, she pushed me away, as if she didnt want me to even touch her, as if I had the plague or something, even telling me, that she didnt want me to touch her, etc ... just because I socialized with this transsexual. It was a mess basically, I even waited a week to let my girlfriend cool off, then tried to talk to her again, even pleading with her, but her whole view of me just changed and she wouldnt give into me. She just thought of me as a queer that touched her intimately or something and couldnt get over it.
Well needless to say, I never told another girl I tried to date about Maya ... but Maya was a very good person at heart. That's it.
***** RCJ:
"BEAUTIFUL GIRLZ" PART'S 4 THRU 1
***** RCJ:
"SEXPLOITATION NATION" PART'S 17 THRU 1
*****************************************************************************