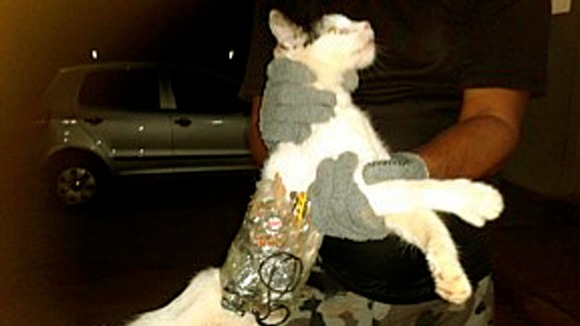 Alleged suspect "Kitty" in custody ....
Part 5 of "The Other Tenant's" series will highlight a recent and popular news piece of a cat that I'll just call "Kitty" here ... recently arrested and detained in Brazil for an attempted prison break plot with inmate's, who was caught smuggling contraband into the facility. Prison official's and investigator's are hoping for a stool pigeon to come forth with testimony to rat on the cat since Kitty refuses to talk : )
***** METRO NEWS:
Cat 'arrested' over Brazilian prison break plot
Cat arrested for break in at Brazilian prison ... Thanx to
Sandwellnews
***** PD/ RCJ
"THE OTHER TENANT'S"
PART'S 4 THRU 1
"sCAT Fetish"
**** another feline related posting
FRONT 242- Felines ... Thanx to
OREOGASM
**** a lil ole favourite and classic tune/ video here from
FRONT242
I wanted to dedicate to the incarcerated brother's to enjoy! : ) **** this video also included in the
"RCJ MUSIC/ ARTS HONOUR ROLL SOCIETY"
****************************************************************************