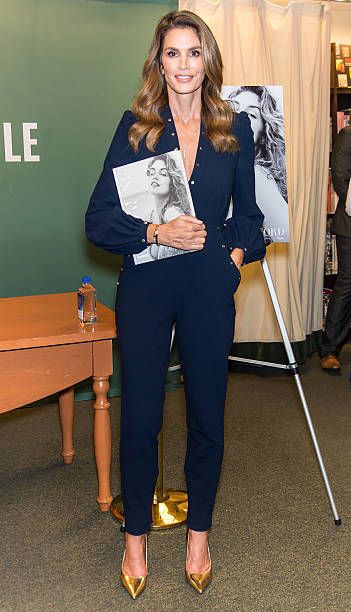 CINDY CRAWFORD
This posting for Part 8 of the "Beautiful Girlz" series will be to highlight & honour
Cindy Crawford
, which is also past due for this journal's series. I have followed Cindy for year's and read everything I could find on her since her start. First obviously like million's of other guy's, knocked out by her drop dead gorgeous beauty, but then really blown away by her life and the kind of woman she really is, this gal just impressed the Hell out of me across the board. She is of course so well known for her strut's of the world's best fashion runwayz, and her tele commercial's and some show's/ movies appearance's, etc ... but there is so much more to this woman than just flash ... she is for real, across the board, a real hustler and go getting workaholic who make's it look so easy, because she keep's it all simple. And I actually thought it quite fitting to do a posting on this entrepreneur and successful businesswoman (TRULY "elite" by my standard's), since the media's currently are saturated with everything from investment banking CEO's to lifelong career politician's who run over and over and over (mostly their mouth's : ) , and all we ever hear about is how they are so elite, the American Dream, achiever's, business icon's, patriot's, and the rest of the nauseating plastic Kwik Kopy portfolio's that they carry, many who couldnt even closely match this woman in any damn thing they achieved, or was handed down to them.
Cindy really came from the trenches and certainly never forgot where she came from and still hold's her familia's value's and interest's close especially in her personalized marketing, one of the most importante thing's for her when she design's and work's on a product is a satisfied customer, and can the average working person like her school teacher sister's who she admire's dearly afford? ... she really tries to give the best bang for the buck and never compromises quality at affordable price's, whether it's in her cosmetic's, jewelry, home furnishing's, etc, etc. Her hard work as a kid from the start and close ties to familia and friend's really set the stage for her to be the success she has, and of course her popular modeling career opened alot of door's for her to utilize in achieving what we call the American Dream, being made offer's and opportunities to invest herself, which she was smart enough to take advantage of and determined to succeed, just as much as she was as a kid earning that chemical engineering college scholarship, she is also a
lifelong science fan too
.
Cindy is also a devoted mom and wife, another thing she never compromised, even when her beautiful daughter Kaia recently jumped into a try at modeling (who look's almost the spitting image of Cindy),
mom jumped in to keep a close protective eye on that too, and I think from experience knowing the industry
and how tough it is, to also give Kaia the opportunity to enjoy her childhood and to choose her own direction as she grow's, which show's her good parenting skill's as well. She also has a son Presley, and appear's to have a great companion and husband who was also a success and former model himself Rande, who had success in the nightclub entertainment business. She still as busy as she is, make's downtime and familia an importante part of her life and duties, and frankly, this also is one of the secret's whether she realizes it or not, that keep's her looking so beautiful as well ... it's called "balance" (psychologically speaking), and nothing can beat that, when you have it. But believe me, when it come's to "having it" ... this woman does, and get this ... she even still manage's to make time to volunteer as well. And she earned every damn bit of success she had, she not only lived the dream, but most importantely, worked the dream! And you look more beautiful now than ever Cindy! Congrat's on your business endeavor's and the best to you and your's!
WPXI- Cindy Crawford talks Beauty Secrets, Fashion, Furniture ... Thanx to
WPXIWEB
*****
http://www.cindy.com/
Cindy's Website
*****
CINDYCOMOFFICIAL
(YouTube)
Cindy Crawford Vogue 2010 (Final) ... Thanx to
Storm Model Management
***** RCJ:
"BEAUTIFUL GIRLZ"
PART'S 7 THRU 1
LADY GAGA- Fashion Music Video ... Thanx to
STEPUPKIDS
**** I wanted to dedicate this video to Cindy of another very talented woman/ artist
Lady Gaga
... but what make's this video unique as well, is it is a "fan- made" video as far as "designed" ... and a great piece of work I may add.
****************************************************************************