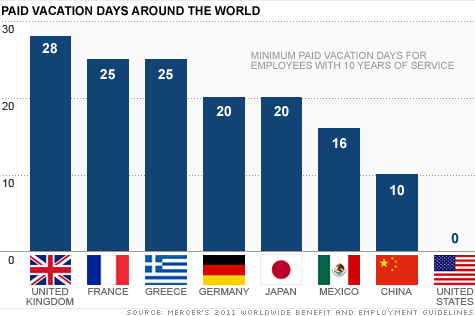 This Part 4 of "Dont Be Alarmed" will take a look at the growing attitude toward's vacation's and/ or paid time off in America, this also applies to benefit's across the board, again, influenced by pressure, stress/ worry, political correctness, and continuous trimming's and cut's, etc. And Thanx to of course CNN for covering this, and for inspiring part of this post's title "No Vacation Nation" (I likes dat : ) , because it's something that I hear and talk about regularly with folk's here in the neighborhood and around town, even my own familia ... I mean, so many feel that they cant take time off, and some even fear to take time off either because of the workload when they return, or fear of being looked at as incompetent, lack of fund's, etc. Subconsciously we have gotten into a more mas(s)ochistic rage, as if it's our duty to be. And we constantly get hammered with what the competition does in other countries, as far as how hard they work with little to nothing, how we need to tighten up our ship (shift's), yet at the same time constantly told were the most productive mother fucker's in the world. Much of it being talk of nation's that are so corrupt in their government's and from oppression that it make's our country look like Heaven on Earth ... but understand ... this is a democracy and how it worx, and the idea that risk/ work get's rewarded, one hand washes the other, etc. After all ... we also consume in mass that which we produce, do we not? ... get my drift? I have even talked to several Western European's for instance here and abroad over the year's, who just outright asked me, what's up with this American trend? It almost made me laugh trying to answer them, just telling them ... "well ... heh, heh, heh, heh, heh ... that's America : ) " Again, I can understand in some poor impoverished nation where this has been the norm pressured on them for generation's, or even how it was in America before labour/ worker's right's, etc ... but that is not part of this democracy here and now, nor is it good for business, or especially worker's health, which mega employer's say their so "concerned" with, nit- picking your personal life and what you do off the job even.
I just love democracy is all ... and admire especially those who bust ass, contribute and really work hard and well, and especially those who believe likewise and expect to be rewarded and compensated for their effort's, I worked with alot of good crew's in the past, we got the job done, regardless of what the task was, and sure as Hell cherished our vacation and benefit's reward's ... like myself ... I utilize what I get and especially earn, period. When I hear employee's panic on the job, and worry too much about deadline's, not having time, or get paranoid that it cant be done, that's when I would kick up a gear and tell them " ... we will make time, relax ... because what you dont do today, you will be doing tomorrow" etc. I had run into them same situation's on the job before, where I was doing such a competent job, that employer's loathed me taking off (even when work was slow, they wanted me there even if I done nothing) , year's back once, an employer for instance, who tried to get me to cancel a lil over two week vacation or so I had scheduled and filed, and was even approved of, at the last minute, hinting to me that if I was away that long, I may need to be replaced, so I worried about it like anyone else would ... BUT ... I had to stick to my principle's and take it off anywayz (I knew the business and work load better than the owner himself, and knew he was just in a panic over nothing as usual), so I had arranged it so that there wouldnt be any problemo at the job and filled in other's to do certain thing's that I only handled ... of course, when I got back, I not only still had my job, but was welcomed with a smile to see me back. It's a matter of sticking to what you value and principle's is all ... and this is something that is really mentally healthy for us all to cherish and excercise ... and only fair and good balanced business. Heh, heh, heh, heh, heh : ) ... you can bet your paycheck (or unemployment check : ) that our political representative's dont waste any of their vacation time ... and they legislatively make THEIR'S MANDATORY in law ... why not our's?
***** CNN/ MONEY:
Vacation? No Thanks Boss
(newsread)
***** HUFFPOST:
Millions Of Vacation Days Will Be Left Unused By American Workers
... (newsread/ video)
***** RCJ:
"DONT BE ALARMED"
PART'S 3, 2 & 1
*********************************************************************************