This Part 18 of "Veteran's Spotlight" will serve as a Memorial Posting 70 year's to date of the
Japanese attack on Pearl Harbor (wikipedia)
. This of course was when wars were really about war and not simply corporate welfare sponsored occupations and resource/ commodities rape of other nation's, off of American tax dollars. This attack by the Japanese is what eventually led 4 years later to their surrender when we retaliated with all we had left to do so efficiently, getting the job done and the war over. Today ... Japan frankly is one of my favourite countries, despite our past conflicts, and are great business and social partners.
USMEMORIALDAY.ORG:
Names of Civilians and Military Personel killed in the Attack on Pearl Harbor
... click on "Pearl Harbor Casualties List"
RCJ:
VETERAN'S SPOTLIGHT PART'S 17 THRU 1
Attack on Pearl Harbor- History ... Thanx to
WATCHMOJO.COM
PEARL HARBOR- VETERANS REMEMBER ... Thanx to
AMERICANLEGIONHQ
ATOMIC BOMBS OF HIROSHIMA AND NAGASAKI 1945 ... Thanx to
TITUSFLAVIUS79
... this of course show's the finale of this war between our countries, unfortunate, but was in balance and appropriate (in my opinion of course) ... also to be fair here posting
this as well
, I realize how many say that the attacks on Hiroshima and Nagasaki were unjust, all planned, set up, had nothing to do with Pearl Harbor and/ or WW2, business, or all the other complications and/ or opinions. But my point of view is simple, and as to the way Japan itself was acting at this time (not just us), whether their strong arm on Hong Kong, Philippines, Pearl Harbor/ USA or elsewhere in the Pacific, to me they were acting in a way as Nazi's of the Pacific, and of course U.S. I'm not saying are saints or innocent ... so for me it IS NOT an act on either side of good or evil, right or wrong, but action and reaction. No matter what excuse on what side or slant is given, we owed this nation in my opinion for what happened in Pearl Harbor too. This is how war makes peace you can say. But Yes, to this day I feel like the bombings of Hiroshima and Nagasaki were unfortunate, but justified and set the slate straight as to where we stand, as they also done by orchestrating this attack on us.
***************************************************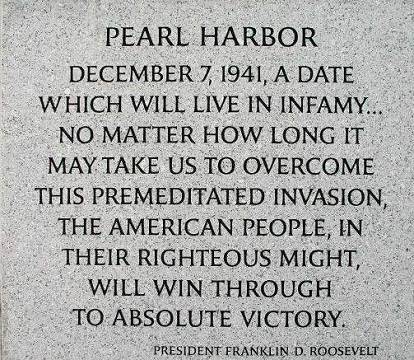 ***************************************************